Do you know that faster website ranks better on Google search result?
If you are concerned about your WordPress site loading speed. Perhaps, you should read about 

http://googlewebmastercentral.blogspot.com/2010/04/using-site-speed-in-web-search-ranking.html
Introducing our WordPress CDN – Content Delivery Network for WordPress
What is a CDN?
A Content Delivery Network or Content Distribution Network (CDN) is a system of servers containing copies of data, placed at various points in a network so as to maximize bandwidth for access to the data from clients throughout the network. A client accesses a copy of the data near to the client, as opposed to all clients accessing the same central server, so as to avoid bottleneck near that server.

Content types include web objects, downloadable objects (media files, software, documents), applications, real time media streams, and other components of internet delivery (DNS, routes, and database queries).
Features
Account Control

Capability to manage your CDN sites without Operator's intervention.

Account Reporting

Your CDN usage details at your fingertip – Statistic of account's based on CDN site, streaming usage.

URL Rewrite Generator

Auto generation of URL rewrite rules for your website – Simplified and eased migration to CDN delivery.

File Purging

Flushing specific file at edge servers, clear the CDN cache – your visitors gets the latest file version

CDN integration test tool

Test the functionality of your CDN URL redirection – one step to check and diagnose your CDN sites setup

Multiple Origin

Setup multiple origin domain for CDN URL – serve content from different origin

Content Expiry Control

Set a caching expiry period for each of the CDN resource – Your visitors reach the most up to date content.
---
For a conventional website which is without CDN, all the contents, images, files, videos are served from a single server from a single location.
When there is a sudden surge of traffic, the standalone server may be congested.
When the single server is down, all the contents become inaccessible.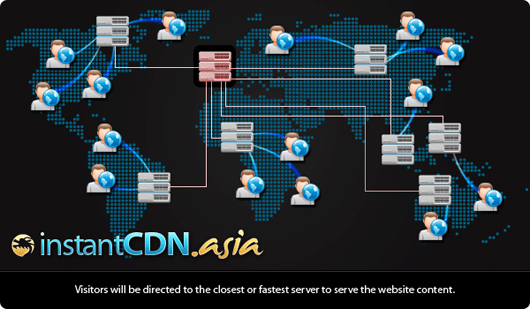 For a website powered by CDN, the static content, images, videos and files are copied and cached at the CDN EDGE servers around the world.
When the static content is called, it will be served from the nearest CDN server.
Website powered by CDN can load faster and can handle larger amounts of traffic, including sudden surge of traffic.
---
How can integrate WordPress CDN in speeding up my WordPress?
Thanks to the plugins created by Frederick Townes named w3 Total Cache, the plugins for site performance and user experience via caching: browser, page, object, database, minify and content delivery network support.
Our CDN can integrate flawlessly in speeding up your WordPress. Need more information on how it worked?
Ask us how.